The Benefits of New Bespoke Curtains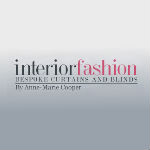 A lot of people wonder if there are actually any benefits of buying custom-made curtains as opposed to purchasing curtains direct from a chain store retailer. Of course, it's not until you've traipsed around shop after shop that you'll find the ready-made curtain sizes available are never the perfect size for your windows.
It's a horrible feeling when you're adding the finishing touches to your newly decorated room and you find that your curtains are far too long or your blinds are too wide for your window. Your windows, doors and ceiling heights, especially in old houses, will almost always be irregular sizes and you'll find that you'll need to cut, trim and adjust your curtains or blinds to make them fit. Unfortunately, the quality of the curtains is never quite the same after that.
Here at Interior Fashion we specialise in producing bespoke curtains in Milton Keynes and the surrounding areas. Our beautiful hand sewn curtains and blinds can complement and enhance your room no matter what your style; you can let your originality and creativity flow. Having our bespoke curtains will have an overwhelming effect on the rest of the room; we never really realise how important our curtains are to the overall look of a room.
Of course, one of the best parts of investing in tailor made curtains is that you can sit back and put your feet up in the knowledge that your curtains will fit perfectly first time. Our service doesn't stop there however, we offer a free individual home consultation, free measuring and advice. We will help you every step of the way from measuring to hanging.
Here in Interior Fashion we are passionate about creating the best bespoke curtains for you and your home; we will always meet your requirements and aim to exceed your expectations. Why not visit our site or contact us for more information about our services and products?
Back To News